Select a glamping pod below for more information:
Occupancy:

Up to 2 people

Price:

£80 per Night
View Details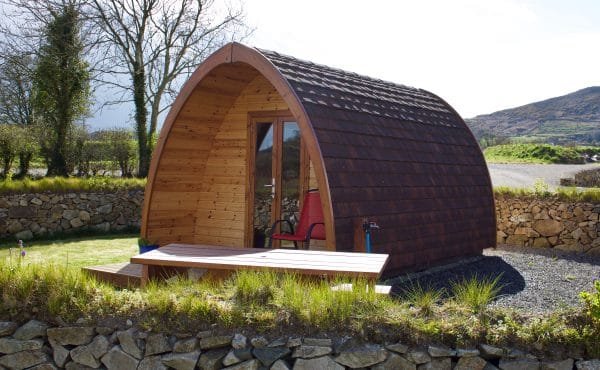 Occupancy:

Up to 5 people

Price:

£80 per Night
View Details
Occupancy:

Up to 5 people

Price:

£80 per Night
View Details
At Bluebell Lane Creative Glamping our brand new glamping pods are timber built and insulated, taking away the stress of packing and unpacking a tent.
Furnished Glamping Pods
The double glamping pods can sleep 2 adults and have double glazed doors and window, electricity and a wall heater. There is also enough room to the outside of the pod to pitch a tent.
There is a communal building with a kitchen/ laundry room and showers, with disabled access.
Camping Pods Northern Ireland
Testimonials
"
We've just returned from 3 nights camping with our boys (7&9), we had an amazing time! Thank you Padraig and Sharon for making us so welcome. ...
"
"
Thank you so so much for having myself and the children age 7 and 5 this week. We had a great time and the children are already planning our next...
"
"
Thank you to all at Bluebell Lane for a fantastic stay. We arrived here on Friday for the night with our kids, new to the whole clamping experien...
"
"
Can't recommend Bluebell lane highly enough! We camped out for 2 nights with our three children and had a fantastic time! Padraig was the perfect...
"
"
Spent two nights at Bluebell Lane and didn't want to leave. The setting is idyllic and the facilities are first class. Padraig couldn't have been...
"
"
Great weekend at Bluebell glamping, this place really does have something special. Padraig your skill and passion is clearly evident in a beautif...
"
"
Spent Saturday night camping 1st visit & it was exceptional Couldn't have got a more friendly welcome Excellent Value For Money My 3 kids h...
"
"
Just arrived back home to Belfast after 2 nights glamping at Bluebell lane, well for anyone who hasn't been, I can only describe it as 5star in n...
"
"
WoW ? just spent a day and night in Bluebell Lane Glamping and loved every minute of it. Sharon and Padraig hosted my daughter's 11th birthday pa...
"
"
I have just had the most amazing wee holiday with my 3 boys and all our friends. Trying to please all our 7 boys is a hard task! But bluebell...
"